Does it really work? Here's the scoop on this tradition from the past of using a St Joseph statue to sell your house.
For many people, the idea of using a statue to sell their house may seem a bit far-fetched. However, the truth is that it can be an extremely effective way to market your home. Here's how it works:
This blog post contains affiliate links. The opinions are wholly my own from my own experience. I may earn a small commission from clicks through to the websites that end in a purchase.
The practice of burying a statue of the saint is highly controversial. However, there are lots of homeowners who wouldn't dare consider selling their home without using the aid of this saint.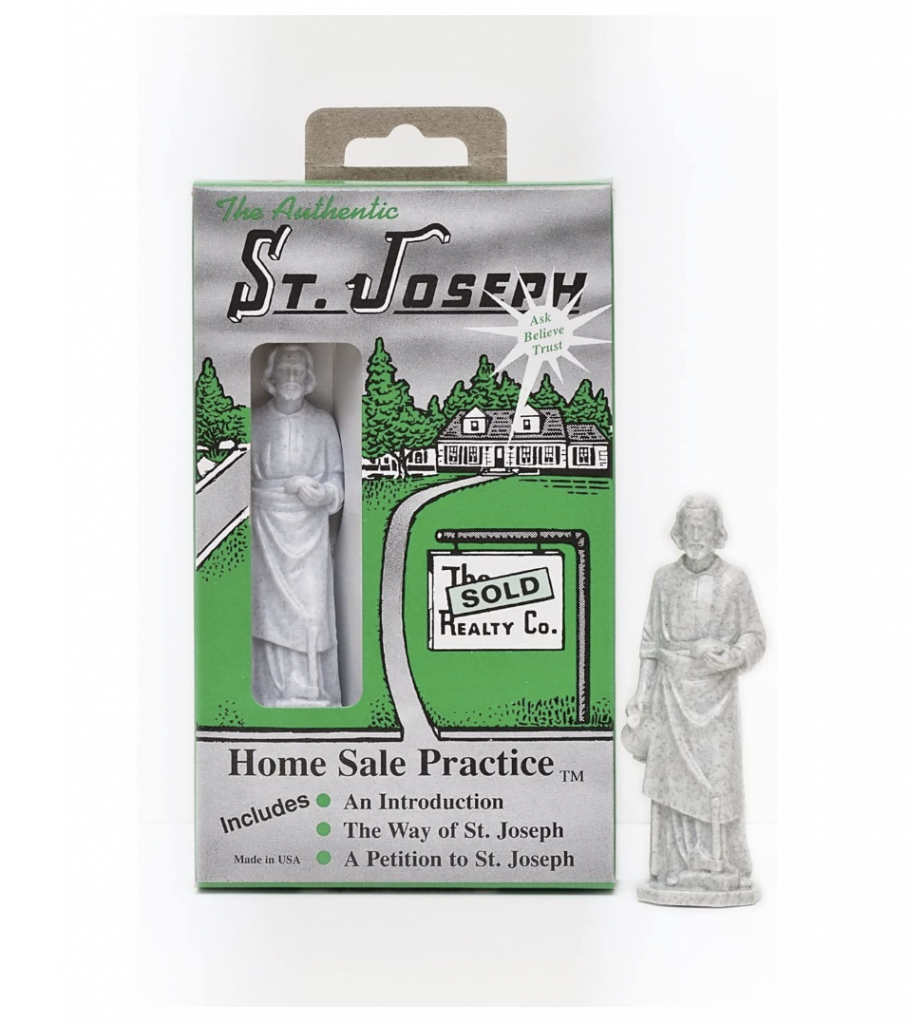 How to Use a St Joseph Statue to Sell Your House
When you place a St Joseph statue in your yard, it is said to bring good luck and fortune. In addition, it is also believed that the statue will help to sell your house more quickly. Many people believe that by placing the statue in the front yard, potential buyers will be more likely to take notice of the property.
Where to Bury st joseph statue in your yard
St Joseph statues are said to bring good fortune and success in selling a home. When considering where exactly to place the statue, it's said that you should bury it in the yard near the "For Sale" sign, or place it close to the house you want to sell. Pray for St Joseph's help as you ask for his aid with your real estate needs. With the help of St Joseph (and Ferguson Realty Group, of course), you can be sure that your house will find a buyer in due time.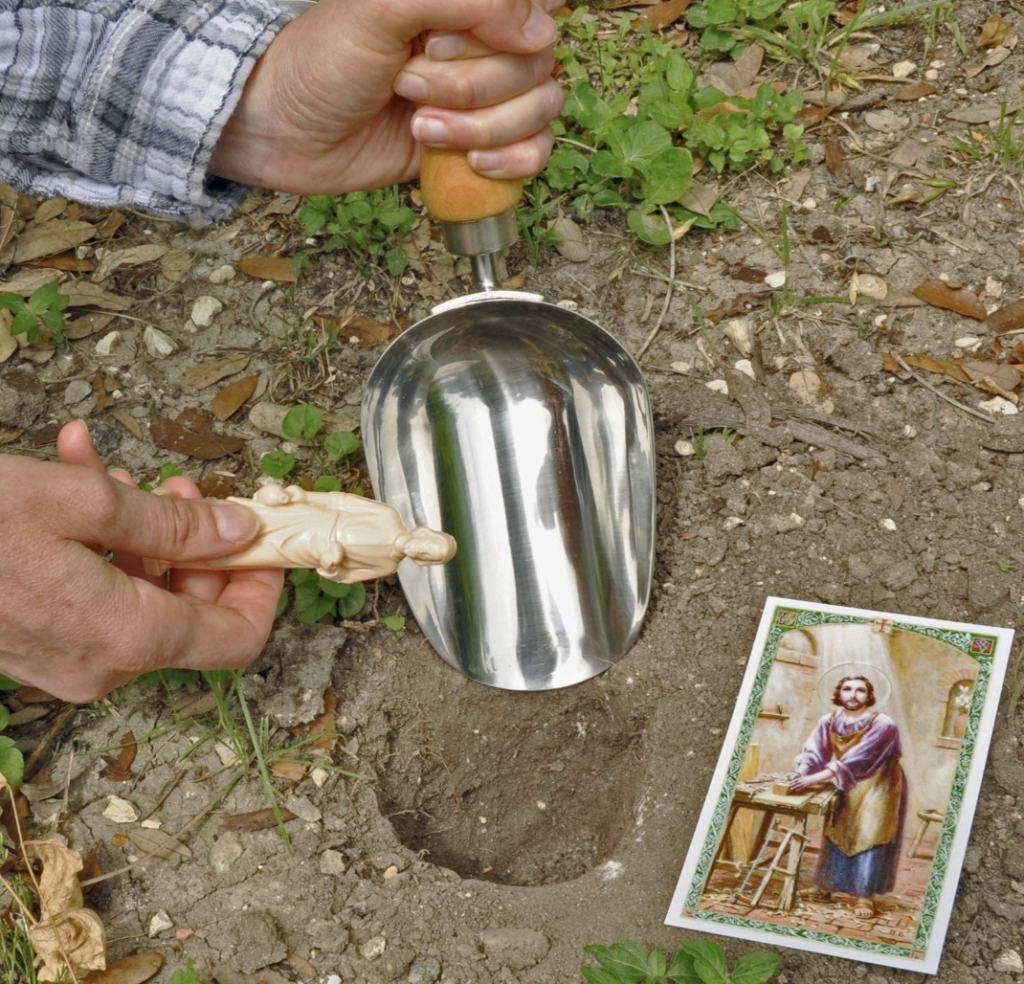 Realtor® suggestions for burying the statue
If you ask different Realtor's® this question, they will all have different answers for burying the statue. Here are a few ideas and directions for burying your St Joseph statue.
Bury it near the For Sale sign
Face it away from the house, indicating you're leaving
Bury it in the backyard
Bury the statue upside down, facing the house
If you're in a condo, bury it in a flower pot near the front door
Prayer to St Joseph to Sell A Home
While there is no "official" prayer to say with a statue of St. Joseph, I found one on a website below to share with you; however, while I'm a firm believer in prayer, I'm not sure this is the magic bullet to selling a home.
O, Saint Joseph,
you who taught our Lord the carpenter's trade, and saw to it that he was always properly housed, hear my earnest plea. I want you to help me now as you helped your foster child Jesus, and as you have helped many others in the matter of housing. I wish to sell this house quickly, easily, and profitably and I implore you to grant my wish by bringing me a good buyer, one who is eager, compliant, and honest, and by letting nothing impede the rapid conclusion of the sale. – PraywithMe.com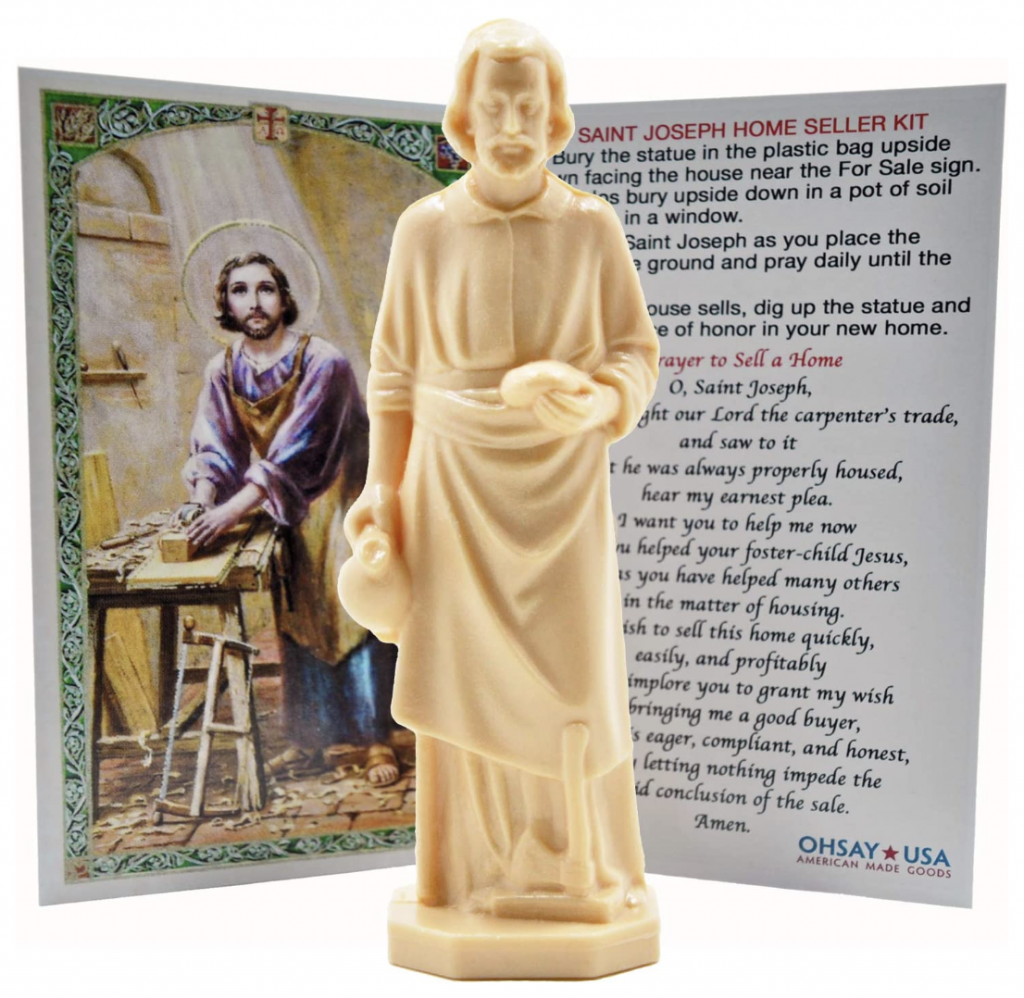 History of St Joseph Statue
The origin of this idea of burying a St Joseph statue to sell house is truly unknown; however, some believe it all began in the 1500s with a group of nuns who prayed for land on which to build a convent and their prayers were answered. Later a statue of Saint Joseph was found buried on the land and so it began…
The history of St. Joseph, the carpenter dates from Bible times. Joseph, who was the earthly father of Jesus has been declared a patron saint by the Catholic church. He also now helps people sell their homes.
People are so convinced that burying statues of St Joseph can help them sell their homes quickly that St Joseph has even become known as the "underground Realtor®".
Remember this ancient tradition as you prepare to sell your home and have faith that everything will work out great!
If you are looking for a creative way to market your home, then using a St Joseph statue is definitely something you should consider. Not only do they say it will help you to sell your house more quickly, but it may also bring you some good luck along the way!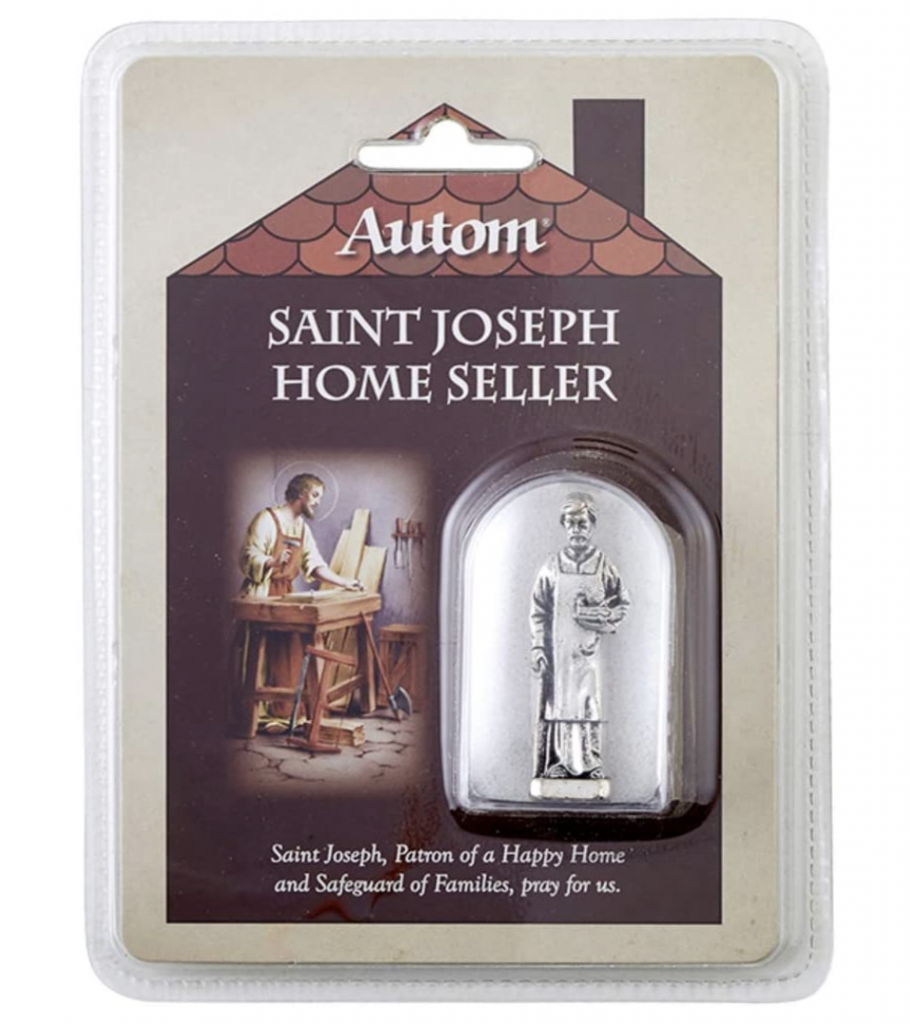 Where To Buy The Saint Joseph Statue
The Saint Joseph statue began to really rise in popularity back in the mid-80s when Realtors were buying them left and right for their clients. They can be found in many stores now nationwide and I'm sharing a few options with you here below to get started.

WHAT YOU CAN ALSO DO To Sell Your Home Quickly

If you're in the market to sell your home, there are some additional things you can do to maximize your chances of success:
Firstly,
hire an experienced real estate agent who can guide you through the process; of course, we'd love to help you.
Secondly,
understand what comps (comparable homes) have recently sold for in your area so you know what your asking price should be; we can help you with that as well.
Thirdly,
keep an eye on interest rates—they could rise at any time; we can share a few awesome mortgage brokers with you for the most up-to-date rate information as well as loan options.
Fourth,
act quickly when making and accepting offers with guidance, of course; the worse thing you can do is be left saying "I wish I would've…"!